| | |
| --- | --- |
| | |
| | This site is best view using 800x600 resolution with IE or Netscape 4.0+ |
Biographies
---

Real Name: John Francis Bongiovi
Date of Birth: March 2th,1962
Born in: Perth Amboy,New Jersey
Grew up in: Sayreville,New Jersey Father: John Bongiovi sr.
Mother: Carol Sharkey
Brothers: Matthew & Anthony Micheal
Wife: Dorothea Hurley
Daughter: Stephanie Rose
born: may 31st,1993
Son: Jesse James Louis
born: February 19th,1995
First band: Raze
Other bands: Atlantic city expressway, The rest,The Lechers, John Bongiovi & the wild ones
High School: Sayreville War Memorial High School
Instruments: Guitar,Piano,Keyboards Harmonica.
Hair colour: Light Brown
Height: 5'10 or 1.78m
Other jobs: Sold shoes and burgers, washed cars & was a cadet
Favorite musicians:Aerosmith,Alice Cooper Bruce Springsteen,Dave Lee Roth Rolling Stones,Willy deVille etc.
Favorite records: Eric Clapton- unplugged Dire Straits,Van Morrison,Tom Waits & Tschaikowsky.
Favorite concerts:Doobie Brothers,Rush & Heart
Favorite Food: Greasy burgers,Sushi,Italian & Mexican
Favorite drink: Muff Dive(self invented) Coffee(with milk) & beer
Favorite Sports: Baseball(NY Mets) Football(NY Grants)
Favorite Movie: Badlands from 1973.
Favorite TV: Hill Street Blues & cartoons.
Hobbies: His family,Cars,Sleeping, Playing baseball,watching TV,football & motorcycles.
Hates: Cats.
Acting: In 1988 Jon plays a small part as himself in the movie 'the return of Bruno' 1989 while on the set of Young guns II in Santa Fe his friend,Emilio Estevez, cons Jon into being a 'real cowboy' and he gets a small role in the movie, riding a horse,shooting guns and being killed,he must have had fun,cause he decided to go on in the acting bussiness and succesfully!

---

Real Name: Richard Stephen Sambora
Date of Birth: July 11th,1959
Born in: Perth Amboy,New Jersey
Grew up in: Woodbridge,New Jersey
Father: Adam Sambora
Mother: Joan Sambora (they were professional dancers).
Highschool: Woodbridge highschool
First band: Rebel
Other bands: Mercy,Duke Williams and the extremes,the Message Richie Sambora & Friends The Next and Hook.
Instruments: Electric guitar,Acoustic guitar,Mandolin,Electric Sitar and many others
Hobbies: Basketball,Boating, Collecting guitars and playing them! Jetskiing and his family. Biographie of 'King of Swing'
Wife: Actress Heather Locklear
Marriage Date: December 17th,1994(Paris)
Child: Daughter: Ava Elizabeth Sambora
Kids Birth Date: October 4th,1997
Fact: Richie is colour blind (that explains his choise of cloths in the 80's,LOL)
favorite Band: Led Zeppelin
His inspiration: Eric Clapton
Favorite Food: Burgers
Favorite Drink: Beer

Richie was urged by his parents to play music.He learned to play the accordion, saxophone,bass,trumpet,piano and drums. He started to play the guitar after he heard Eric Clapton. Richie's words: "Basically,the first time I heard an Eric Clapton record and the fact that he made the guitar talk so that he was communicating without speaking,made me want to try it!" Other influences are: Led Zeppelin, Jimmy Henderiks and The Beatles. Richie approached Jon at a concert to promote the WAPP's compilation and expressed an interest in joining the band "I said I had a lot of songs and I had a knowledge of making records,and that that guitar player(Dave Sabo)was very good ,but he was very young. The band was kicking and I was the missing piece." Jon didn't take it seriously.Alec talked Jon into letting Richie come down and do his stuff. he called him to a rehearsal with his band a week later.Jon was late and by the time he came to the rehearsal,Richie had the band grooving. jon listened to the studio door for about 30 sec. and yelled "hired" jon's words: "He had his own style,which wasn't riped off from Eddie van Halen,like all the other guitarists that where kicking around that year." Richie made two solo album so far; Stranger in this town and Undiscovered soul.

---

Real Name: David Bryan Rashbaum
Date of Birth: February 7,1962
Born in: Edison,New Jersey
Father: Ed(A trumpet player)
Mother: Florence
Sister: Michelle
Wife: April McLean,she's a jewelry designer
Married: August 25th,1990
Childeren: Son and a Daughter(twins)
Son: Colton Moon
Daughter: Gabrielle Luna
Kids Born on: March 10th,1994
High school: John P.Stevens High School
First Band: Transition
Other bands: Atlantic City Expressway, John bongiovi & The wild ones
Instruments: Trumpet.Piano, Keyboards & Synthesizer
Favorite Musicians: Led Zeppelin & Deep Purple
Favorite Food: Japanese
Favorite drink: 'Muff Dive' (Jon's invention)
Hobbies: Music studies & his family
First solo Album: On a full moon In conrast to dave's work with Bon Jovi

On a full moon....is a powerful collection of contemporary,piano-driven instrumentals that includes shades of classical,New Age,Blues,Jazz and Rock, all of which are brought together by Dave's soul stirring performances on an acoutic grand piano. Two songs "Kissed by an angel" and "Lullaby for two moons" were written for his twins. Also included is an 'unplugged'version of Bon Jovi's hit 'In these Arms',which Dave co-wrote with bandmates Jon & Richie

---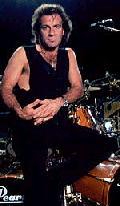 Real Name: Hector Samuel Juan Torres
Date of Birth: October 7th,1954
Born in: New York City
Grew up in: Iselin,New Jersey
Father: Hector(A Cuban)
Mother: Emma (They were divorced)
Brother: Andrew
High school: JFK Memorial High school
First band: Sweat
Other bands: Phantom's Opera,Franke & the Knockouts,The Marvelettes and he has worked as a studio musician.
Wife: Tico married topmodel Eva Herzigova,september 7th 1996 and they got divorsed end of summer 1998.
Instument played: Drums,Percussion
Hobbies: Painting,Cars, Carpentry ,Poetry & collecting vintage guns.
Favorite Musician: Simon Phillips
Favorite Drink: Beer
Favorite Sports: Football & Golf
Discovered another talent: Painting

Despite his status in the musical area in the world of art,Tico was a newcomer and extremely critical of his own work. Although certain that it showed good, this modest man was not sure he was ready to share his art with the rest of the world. Tico admits that he was relying on the opinions of family & friends to reach the decision to expose his work. Hia first show was at the Ambassador Galleries in SoHo,New York City. Right now he's showing his art all over the world! Tico and Jon got introduced to each other by Lance Larson. What really convinced Tico to play with Jon was watching Jon perform The reaction from the kids especially the girls was overwhelming.As Tico puts it: "They saw this young god,running around the stage,shaking his ass,So I said: Take the gamble and go for it! "

---
Full Name: Alec John Such
Date of Birth: November 14th,1951
Place of Birth: Perth Amboy,New Jersey
Mother: Helen(she played the violin)& his father played the Cimbalem.
Brother: Kenneth
Sister: Diane
High School: Rahway Junior High School
Previous Bands: Phantom's Opera,The Cellar Dwellers,The Message(with Richie)
Instruments: Violin,Bass
Favorite Bands: AC/DC,Judas Priest,Led Zeppelin
Hobbies: Music,Motorcycles & Collecting Guns
Left Bon Jovi: In November'94
These Days: Managing a number of local bands & owns a Bike shop in NY.

*Jon's story about Alec's departure:
The fact that I'm a workaholic,studio in,studio out,stage on,stage off,want to be dealing with music day & night doesn't mean anybody else has to! Of Course it hurts,but I've learned to accept & respect it.

---
Full Name: Hugh McDonald
Place of Birth: Philadelphia,PA
Residence: New York,NY
Nickname: Huey
Wife: Nancy,married in september 1996
Children: None(yet)
Previous Job: Studio Musician
Worked with: Cher,Alice Cooper & Micheal Bolton
Joined Bon Jovi: early'95

Hugh also played on Bon Jovi's first album "Bon Jovi". He was suggested as bassplayer by Tico, who had worked with Hugh before.